If you are confused about how to login to Ameris Bank for online banking, here is a comprehensive step by step guide for the same –
[toc]
Ameris Bank Login / Sign-in Process
Step 1:
First, click on the following link to access the home page of Ameris Bank – https://www.amerisbank.com/
Here you will find the red login button on the right-hand side. Click on it to move forward.
Step 2:
Once you click on the login button, a small window will slide in on the right side of the page. Choose 'personal banking' before moving to the next step.
Step 3:
Enter your User Id in the Username option and click on the login button.
After this, you need to press the "Continue With Security Code" option to get a One-time Security code in your registered mobile number. This step is to ensure the security of your bank account.
Step 4:
Clicking the "Continue with security code" button will lead you to a new window where you need to choose a convenient option according to you.
You will receive an automated call from the bank on the number shown on this page. It will provide you with the code that you can enter in the next step.
If you choose the 'text message' option, a message providing the one-time code will arrive at the same number.
Once you enter the code, you are all set to start with online banking.
But if the number showing on the screen is not available anymore, please call the bank at 866-616-6020 to change the phone number.
Enroll in Online Banking for Ameris Bank
To log in for online banking, you need to enroll in Ameris bank first. If you have not done it yet; then, you can follow this step-by-step guide to do the same.
Step 1:
To enroll, first, click on the login button that you will find on the homepage of the bank's website on the right side.
Then you can click on the "Online banking enrolment" option that you will be able to notice just under the red login button.
Step 2:
After clicking on the button, you will be guided to another page where you need to click on "Personal Online Banking Enrolment" to move forward.
Step 3:
Once you click on the right option, it will take you to the page with the introduction. Please read all the options carefully and choose the most convenient one for you.
Step 4:
After deciding the appropriate method, read the agreement by clicking "Online Banking Disclosure". Once you are done with reading, click on the check box to agree.
Then click on continue to go to the next step.
Step 5:
After continuing the previous step, a new page will open, where you need to fill in your data, such as your name, social security number, pin, and email address, carefully.
Once complete, please click on the continue option below to finish the process of online enrolment.
Here is a video from the bank elaborating on the online enrolment process.
Ameris Bank Forgot Password Reset Process
If you cannot remember the user id anymore, follow these simple steps to easily retrieve your user id, which is required to log in.
Step 1:
Once you get to the login screen, you will find an option as "Forgot Used Id?". Simply click on it, and you will be taken to the next step.
Step 2:
You need to select your account type, then enter your name, account number, and social security number to reset your user ID.
How to Reach Customer care of Ameris Bank
If you still have any doubts, please reach out to the bank using the information below.
Reach Through Phone
Phone – 866-616-6020
Monday – Thursday: 8:30 a.m. – 6:00 p.m. (ET)
Friday: 8:30 a.m. – 7:00 p.m. (ET)
Saturday: 8:30 a.m. – 1:00 p.m. (ET)
Visit a Branch
You can find your nearest local branch through this link – amerisbank.com/locations
You can find the phone number of the branch and contact them as well.
If you have specific queries, then you can find a phone number related to the same provided by the bank on their contact page.
All your questions related to servicing will be answered on 855-249-8132 between 9:00 a.m.- 6:00 p.m. (ET), Monday – Friday.
To know about construction loans please call 888-596-2435 between 8:00 a.m.- 5:00 p.m. (ET), Monday – Friday.
Additionally, you will be able to find phone numbers for queries related to debit cards, credit cards, wealth, and payoff information.
If the above methods are not clearing all your dilemmas, you can send them your inquiry to get a personalized answer related to your issue.
Mobile Banking App for Ameris Bank
If you are more comfortable with mobile for online banking – Ameris Bank has an app for that.
Whether you are an Android user or you have an iPhone, you can use these apps to conduct online banking effortlessly.
Android App for Ameris Bank (get here)
iPhone App for Ameris (get here)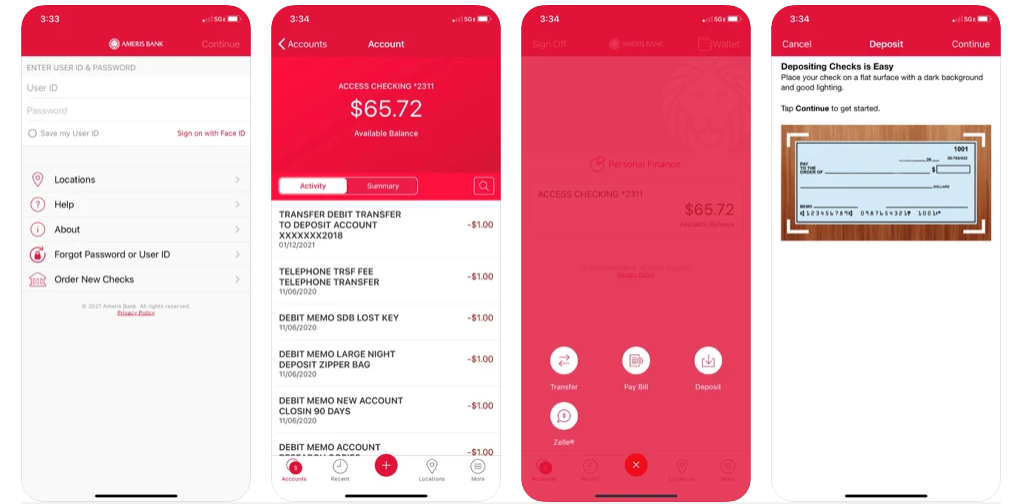 About Ameris Bank
Founded in 1971, the company was named American Banking Company. In 1980, the company became known as ABC Holding Company. In 1986, the company changed its name to ABC Bancorp.
In 1994, the company went public and traded on the NASDAQ under the symbol ABBK. In 2005, the company changed its name to Ameris Bancorp.