Babies need a lot of stuff like cribs, cots, toys, etc. and parents generally look up online for baby care products. Most companies have websites selling all their products online but to market it and reach out to parents they must take the help of social media. Since young people spend a lot of time on social sites, having a social presence for your company becomes very important. In case you are absent from the social scene, potential customers may get diverted to your competitors who are networking on social sites.
If done correctly, social media could work out to be a huge enrollment-building strategy. What is required is blogs, articles and other content that are engaging, interesting and provide room for interaction with parents and prospects. Social media provides you a platform to showcase yourself as the best in the industry and explain why you are the best. The first thing every company looking to expand their reach needs to do is have an active presence on Facebook, Twitter, Pinterest, Youtube and other popular social networking sites.
Internet and Social Media Marketing Strategy
Have a really good website: How a website looks and navigates is a big factor when parents are looking for quality products for their child. First thing is to have a good basic web design and then search engine optimization needs to be done so that every page and category is properly optimized for keyword searches. With careful research, at least some of the products will be able to get good rankings in keyword search results.
Offer advice: First time parents will have a lot of question and would really like to know about taking care of their babies. Young parents of today naturally turn to internet for tips on baby care issues, sleep strategies, development issues and lot of other baby stuff. This gives baby care companies a good opportunity to attract parents to their website with blogs that offer advice on baby issues – problems, difficulties and the joy of it as well.
Share: You must have presence on social networking platforms since that is where most people devote a lot of their time. Content posted on social sites should eventually be able to divert traffic to your blogs and website. A lot of creativity and enthusiasm will have to go into engaging parents on social sites.
Measure sales generated from social networking: Use a sophisticated web analytics to measure sales generated from social sites and to know if the online purchasers came to your site directly from your Facebook page or from a mommy blog. If it is not possible to use a web analytics, insert a drop down menu in the shopping cart area of your website asking your customers how they were referred to this site.
How to interact with mothers on social networking sites
Get to know mommy bloggers: Mommy bloggers virtually dominate the baby social media world. The reasons are simple – they talk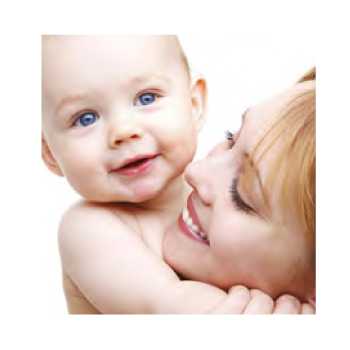 about their own experience which makes their blogs sound very genuine to other moms as they can relate to it very easily. The same is not true when a corporate does it. Thus including mommy bloggers somehow is very important for success of online strategy for companies. Mommy bloggers are essentially mothers who share their opinions and experiences of motherhood and baby care through their blogs. Some mothers even post product reviews. This is something that can be used to your advantage as shown by Johnson & Johnson who send samples of their products to be reviewed by mommy bloggers. When these mommy bloggers post the reviews on their blogs, it gives word of mouth publicity to the company and its products.
Have a strong presence on popular social networking sites: New mothers are glued to social networking sites and spend a lot of time online. Having a social presence for a baby care company on social sites like Facebook, MySpace, Twitter, etc. makes it easier to interact with mothers and engage them. For example, Evenflo's Facebook page has 16,689 likes and mainly educates users of the page on safety aspects of child car seats.
Encourage Photo/Video sharing: Mothers like to post photos and videos of their kids online. They also like to watch videos of others' kids as well as instructional videos. This presents baby care companies with the opportunity to grab the attention of mothers by sharing advice on baby matters through interesting graphics, photos or videos. Also, having video contests is a good way to engage mothers.
Invite mommy bloggers to experience your world: Companies like J&J have tried building a personal relation with mommy bloggers by inviting them to tour their headquarters and attend events. Others ways to make an impression on mothers would be to send them a gift voucher that can be used on your baby care products and services. Be creative with your ideas. For example, Dodge gave moms the experience of test-driving the new Dodge Caravan for a week.
Case Study: Graco Baby
Blogging :They have a blog called 'Heart to Heart' where employees of Graco who are also parents write. The content presented is informative, relevant and personal. The blog posts may be serious, heartfelt or funny. The target audience – mothers, fathers and parents-to-be – feel reassured knowing that there are other parents behind the making of their baby products.
Social Networking: The residents of US can create a 'My Graco' account on the Graco website. Having an account helps in managing products and checking order status.
Twitter: Graco's Twitter handle has 12539 followers. It provides followers with daily car seat safety tips. Members of the Graco team including the PR interact with users to engage and build relationships and not just push Graco centric messages.
Video: Graco provides instructional product videos and testimonials from parents on their Youtube channel Ready for the Road Ahead.
Facebook: Graco has a Facebook page called Graco Children's products (US) with 40290 likes and Graco baby (Europe) with 15210 likes.
Case Study: Johnson & Johnson
In 2009, J&J came up with a "Big Bubblin' Stars" contest on Youtube. As per the contest, moms had to upload three-minute videos of their kids playing at bath. This was to promote their new bubble bath product. The winner of the contest was awarded with $10,000 and given a chance to host a channel launched in 2005. This initiative was backed by celebrities with popular and well-known mothers being the spokeswomen and judges. They even got a lot of bloggers associated with Mom Central involved. The goal of this program was to deepen engagement.
Case Study: Procter & Gamble
In 2010, when there were some discussions going on about whether an improved Pampers product gives babies rashes, P&G handled the issue in an open and transparent manner. The issue came to the fore when mothers blogged about it, so P&G decided to meet with these mommy bloggers. They indicated to the concerned mothers that the underlying research had no problem. They addressed the issue directly with their core customers and hence their business didn't suffer in any way. While social networks can go viral with negative opinions and degrade a company's brand image, the very same social networks can come to the rescue in times of crisis by making it possible to mitigate rumors and bad news. It all depends on how you make use of the social media and P&G has definitely shown the way in this direction.
Companies today have started recognizing that social media can be used to shape opinion about their brands. Building brands involves establishing credibility and authenticity with outbound messaging and social network dialogues. The true test for a brand is how they react when difficult circumstances arise in the social arena.
Case Study: Kimberly Clark
Even as Pampers was demonstrating the need to listen and adapt in crisis, Huggies at the same time launched the MomInspired Grant program to fund entrepreneurial mothers across the US in getting their child care business ideas off the ground. This was a result of having embraced social media research and community building to bring out the positive aspects of social media. Kimberly Clark offers a total grant of $250,000 in grant money with each individual winner getting a maximum$15,000. Mothers are required to submit a unique baby or child care product idea that addresses unmet parenting need and winners are decided by a panel of judges. They have a dedicated website for this program as well as Facebook and Twitter handle to spread word about it. This initiative was the result of a lot of listening and talking to their target audience. In their interaction with moms they learnt that the challenge faced by these moms was the need for capital and financial resources and mentorship. Kimberly Clark with this program looks to foster its own innovation and also work to inspire and enable entrepreneurial moms to make their ideas a reality.,Kimberly Clark looks to build a relationship with moms even after the contest and even with those moms who didn't win. Entrepreneurship comes with its risk of failure; the ideas of these moms may or may not be sustainable in the long run. But even if a small number of these projects were successful, it would demonstrate Huggies' commitment to working mothers.
Conclusion
It is impossible to keep social media out of a marketing strategy. Social media marketing for your brand presents you with an easy and inexpensive way to market your products to the target audience. Since your target audience is also hanging around on social sites, there is an opportunity to interact with them, engage them, and learn if they have any problems or difficulties with any of your products and offer solutions. Social networks help you build a relationship with your customers and win their trust and loyalty. Sometimes it is possible that a negative opinion may go viral but such situations need to be taken head on and handled truthfully and sincerely as shown by Pampers. The most important aspect of having a social presence is to listen what your customers are talking. This is not just with regard to their complaints but even otherwise their comments will give an idea of the overall sentiment for a product. And this helps you improve your service.