Social media has changed the way industries advertise and market themselves. The hotel and hospitality industry too needs to keep up with the times and have a presence on social networking sites in order to build their brand value, reach out to more people and increase their online bookings. While the social media strategy for each hotel would be different, it would help to keep some dos and don'ts in mind while using social media. A few tips on how to use some of the leading social sites are given below.
Benefits of Social Media for the Hotel Industry
Gain more customers with positive reviews: Having a good social media strategy and customer service helps you get good reviews on sites like Yelp, Travel Advisor and Google's aggregations. Many people look at the reviews on these sites before deciding to choose their hotel because the reviews on social media are generally by customers who have experienced your service and are very honest in their opinions. This is why it is really important for you to build your brand image by capitalizing on the opportunities provided by social media.
Customer Service: Customer service greatly improves with Facebook and twitter as you can directly interact and converse with customers and address their grievances/doubts/questions. One negative thread online could do a lot of damage to the brand name. But listening to online conversations can let you know of any negative sentiments pretty early so that you can take the necessary action and respond to the situation. And if a customer is happy with your service, he/she will turn into your brand advocate and boost your brand image.
Run successful campaigns: It is easy to run campaigns when you have a good social media following. It very productive to extend discounts and offers to audience who have opted to hear from you through various social media platforms.
Impact of mobile phones: Mobile phones and location based services/apps like foursquare and Facebook places give an opportunity to hotels to invite customers if they are anywhere nearby. Hotels can tie up with location based services to alert them when a person is in the same locality where the hotel is situated and then hotels can roll out their offers to encourage the person to visit their hotel.
Tips How Hotels can use Facebook
Facebook presents an excellent opportunity to increase online bookings for your hotel. For this you must have an attractive and interesting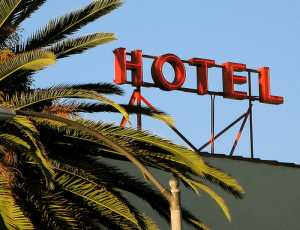 Facebook page that encourages interaction from people visiting the page. The page must give visitors all important information about the hotel like location, rooms' description, amenities available, contact information, etc. and add a lot of photos as well.
Cover Photo: Cover photo is great and prominent feature on a Facebook page and it is the cover photo that is noticed first by anyone who visits your Facebook page. Hence, make the most of it by uploading a high-resolution and beautiful picture of your hotel that people would love. Cover photo helps you make a good first impression.
Updates: Keep your fans interested with frequent posts that compel them to respond. For example, you could post interesting questions and ask for their opinion. And be sure to accompany your posts with photos as much as possible because visual treat is the best way to garner attention. It is okay if there is not much to update everyday (maybe once a week will do) but do not hibernate from social media to the extent that your fans forget your existence!
Engage: You must appreciate the time your fans take to like your posts and comment on them. One way of showing your appreciation is by liking and replying to their comments. Engage in conversations with them. When you establish a sense of friendliness towards your fans, they are more likely to knock at your hotel's doors next time they visit the place and maybe even recommend the hotel to their friends and relatives.
Facebook local search: Having a Facebook page with appropriate keyword optimized description helps businesses to show up on Facebook local search (formerly Facebook Nearby) that caters to mobile users similar to how location based services like foursquare work. This really helps to connect to people who look to Facebook for everything and makes the presence of your hotel known to them. To show up in the search results, it is important that you have a lot of fan interaction and ratings for your Facebook page.
Tips How Hotels can use Twitter Effectively
Entertain: Just self promotion is never effective. In fact, loudly promoting yourself may have a negative effect. An important aspect of having a good social media strategy is to entertain people. For example, you could try adding a humor element to your tweets to build up a following. Once the followers count is up, it will naturally have an effect on the number of bookings for your hotel.
Engage: Engage with your followers. Ask them questions and encourage them to answer and interact. Ask your followers to retweet you if they agree with you and sometimes you can also retweet them if you find any of their tweets interesting. Be sure to respond to your followers' queries and offer any help possible from your side.
Tips How Hotels can use Google+ Effectively
Google+ is integrated with Google search and this is more than enough reason for a hotel to have a presence on Google+. Hotels must have a Google+ business page and not a personal profile. The page must be used to engage guests, interact with them and share information and photos. Given the way Google+ works, it would be good to write longer posts, ask guests for their opinions and start a discussion. Do not forget to add the +1 button on the hotel's official website; you need more and more people to add you to their circles for your Google+ strategy to be truly successful.
Tips How Hotels can use Pinterest
Pinterest is a virtual bulletin board and a very good platform to drive traffic to your website. But Pinterest doesn't give instant success; you'll have to work consistently and be patient to see a positive trend in the result. Before starting to promote your own hotel, try creating a following. To create a following, first you must follow other users and repin their pins; repin content that is relevant to your business and interests you. Once you have a decent number of followers, you can pin your own content with good high resolution pictures of your hotel which will be shared by your followers and the message spreads. Continue with the process of following new people and repining their content and with time you'll see a lot of traffic being diverted to your website and an increase in online reservations.
Tips How Hotels can use Tumbler
The strategy you adopt for Tumblr must be similar to that of Pinterest, just that here 'repin' is replaced by 'reblog'. Similar to Pinterest you'll first have to build a following before promoting your own content and to build a following you'll have to follow others and reblog their content. If you don't have a blog, then Tumblr is a must. Use Tumblr to share not just promotional content but also interesting content on travel, food and hospitality in general. Follow blogs, reblog content, build a following and then promote. The content you post can include the history of your brand, photos and interesting facts about your hotel and its surrounding areas. If your content is really good, Tumblr can act as a catalyst in virally spreading your message.
Tips How Hotels can use Foursquare
Foursquare mainly caters to mobile users. Foursquare users can 'check-in' at hotels in foursquare, i.e. tag themselves with the hotel and share with friends and family. Promotions and discounts are what drive people to check-in to foursquare hotels and the hotels offer competitive promotions on foursquare to woo customers. Users can also leave 'tips' on locations they have checked-in. Tips are notes where one can write their experience about the place and attach photos along with it. Tips are public and can be seen by anyone on foursquare.
Provide information: People are more likely to check in to your hotel if they know more about the place. So provide them with lots of information about your hotel and accompany photos with detailed descriptions. Many people who have visited your hotel may have already listed your hotel with foursquare. It is important that you claim your business because this allows you to edit your listing and get access to Foursquare's free business tools.
Special offers: Come up with special offers and discounts just for foursquare users in a way that they are encouraged to choose your hotel over others.
Engage: Engaging with customers on foursquare involves keeping the profile up-to-date, offering discounts and addressing the concerns of any customer who has left a negative tip.
Case Study: LateRooms and Social Media
LateRooms is a British online accommodation service where hotels can sell their empty rooms at discounted price and this works as a money saver service for the consumers. LateRooms even has hotel reviews on their website. Following are some of the key features of the social media strategy adopted by LateRooms:
Google+: Unusual as it may sound, LateRooms has a much bigger following on Google+ (849013) than on Facebook (82440) and twitter (18475). The brand has appeared many times on the 'What's hot' list. In contrast to Facebook newsfeed, google plus streams a larger photograph which is more effective than a smaller one or no photo at all. And this helps catch the eye of their audience when they have some beautiful photographs to share. They use google+ to share photos, related blogs and travel stories. LateRooms maintains a personal relation with their fans by signing off comments with names of real LateRooms members. They have even put photos of their employees in google+ as well as Facebook. Having a multi-lingual and global fan base, LateRooms has the system in place to be able to respond to questions in different languages. LateRooms groups their audience in different circles according to their interests; this helps them send out relevant messages to specific groups of people.
Concierge Service: The LateRooms Concierge is a free service that was launched to help people find the best hotel to stay as per their needs. The concierge service works through the LateRooms' social media channels on Facebook, Twitter and Google+ in five languages – English, French, German, Spanish and Italian. The users can ask for suggestions on hotel rooms and any other questions by giving details of their destination, budget and dates they plan to travel. Since finding a hotel that suits your needs out of hundreds that may be there in a city is very difficult and time consuming, the concierge service does all the work for you. The communication is conversational and personal which makes customers feel like they are talking to a friend who is just helping them find a perfect room for their stay. According to a case study by Brandwatch, 30% of all inquiries on Concierge service go on to become sales, thus indicating a large return on investment (ROI).
Brandwatch: LateRooms uses social media monitoring solution to listen to all talk about their brand on social media channels. Listening to talk about their brand helps them plan a strategy and respond appropriately. For example, once a customer dissatisfied with LateRooms started a negative thread about LateRooms on a forum. They were able to pick this up early using Brandwatch and they got back to the customer and resolved the issue. The customer was so happy with LateRooms' response that he eventually deleted the thread. Another an example is when they found an increase in the mention of their brand in a community called Blonde Poker. This they thought was an opportunity to capitalize on the concept of targeted marketing and so they partnered with the site. This partnership has been fruitful as Blonde Poker has been delivering targeted audience to LateRooms ever since.
Summary

It has been seen that hotels that have a social media presence tend to have a higher traffic to their website than hotels that don't have a social media presence. When competition is so high and online bookings matter so much, it is impossible to ignore the social media. Investing in social media has its advantages; it just requires some commitment.