HIn past brand building opportunities for small businesses were limited as they do not have power and might to spend money on print and digital media campaigns. This all changed with social media.
Small businesses can now build their brand by leveraging social media. Social media is that powerful marketing tool by which small businesses can give tough competition to big corporates with little investment.
Benefits of Social Media for Small Businesses
Traditional marketing strategies have been losing their sheen in today's online world. Social media provides small businesses the opportunity to engage consumers and boost sales through online shopping. Here are some of the benefits of using social media:
Small businesses need to spend their money judiciously. Social media is the only marketing tool that would require very little investment while providing a high ROI to the business.
Search results of engines like Google are increasingly depending on the social media engagement of companies. More popular the company and more its content liked and shared on social media, the better its search engine optimization (SEO). For example, Facebook 'likes' and Twitter 'retweets' can greatly enhance the company's SEO. Therefore, businesses need to employ their keyword strategies on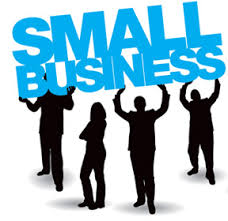 the social networking sites as well.
The greatest advantage of social media is in customer engagement and customer service. Social media allows for direct interaction with customers making it easier to answer their questions and resolve issues. With the social media being so expansive, almost all customers are going to be there on at least one of the social networking sites. Small businesses can use each of these platforms to reach their customers and many more potential customers. In this regard, no small business is any less than a big corporate. Social media does a better service than call centers often used by big companies.
Challenges
Now let's look at the challenges posed by social media for small businesses:
When people want to look for more information about a product they may be interested in buying, they first search online for the company's website and they tend to judge the company by its website. So it is very important for companies to have an appealing, attractive and informative website. To design a website they may need to hire a social media agency. If they cannot afford that, they will have to take the help of open source platforms to set up a website. This can be time consuming and be a daunting task for small businesses with very few employees.
Having social media accounts is not enough; to engage fans and followers interesting and relevant content needs to be created every day. This is again a very time consuming process. A possible solution could be to outsource content marketing to professionals who can ensure greater engagement and improved SEO.
The impact of social media marketing is greater when you can spot you know where your target audience is. Sometimes certain small businesses don't have the budget to conduct extensive market research and find their audience. As a result, they lose out on the concept of 'targeted marketing'. But sometimes common sense is all that is required to overcome the scarcity of budget. For example, a restaurant must consider marketing on review sites like Yelp where they will definitely find their audience.
A huge number of people use their smartphones to access internet, network on social platforms, shop online, etc and the number is only increasing. This puts additional pressure on small businesses to make their websites and all other marketing campaigns mobile friendly.
Social media needs to be monitored constantly and questions from customers must be answered in real time. Otherwise later the question may cease to be relevant. For example if a customer asks when the shop would close, it needs to be answered before the shop closes and not a few days later.
Social Media Examples for Small Business

Rosehall Kennel
Rosehall Kennel is a small business owned by Eliot and Emily Roberts. The kennel breeds and sells German Shepherds. Rosehall Kennel is known for its Facebook marketing. They have 3212 likes for their Facebook page. Eliot Roberts claims to have achieved around 4000% ROI with each litter being sold for $1350. Rosehall Kennel has a high engagement rate for their posts. One of the creative methods of Rosehall Kennel is that they frequently post pictures of a puppy with a thought bubble. Here is an example: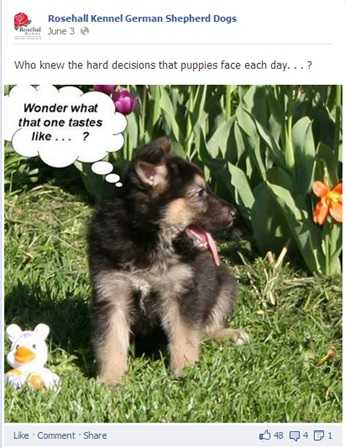 Through their posts they have been able to educate people on the efforts that go into breeding these dogs. As a result neither does selling a pup require much coaxing nor do buyers bargain unreasonably on the price.
Baseball Roses
Baseball Roses is an innovative business that makes artificial roses from real baseballs and softballs. It was started in 2010 by Mark Ellingson. Google AdWords did not help Baseball Roses since their product was so unusual that no one would have been searching for it. That is when Mark Ellingson switched his focus to Facebook ad marketing through which he was able to target baseball lovers. Many of these baseball fans became fans of Baseball Roses too. The number of likes for the Facebook page of Baseball Roses currently stands at 20,401. Baseball Roses has been able to achieve an ROI of 300-400%. This clearly shows how Facebook could be a more useful tool than search engines for entrepreneurs trying to market their lesser known products. Baseball Roses encourages people to 'like' their Facebook page by offering the incentive of a free Baseball Rose coupon.
Blendtec
Blendtec was started in the 1980s as a small company that produced grain mills. They now produce blenders for commercial and personal use. The company's CEO Tom Dickson had the unusual practice of testing the blenders he invented by attempting to blend stuff like wood, marbles, golf balls, glow sticks, iPhones, Rubik's Cubes, television remotes, etc. In stepped the first ever marketing director of Blendtec, George Wright who came up with an amazing yet simple idea to use this unusual practice of his CEO for marketing the blenders. The idea was simple – to make videos of these tests with more and more obscure items and post them on YouTube. These videos became part of the 'Will it blend?' series which has been very popular and the YouTube channel has got almost 225 million views. The popularity of these videos has had a direct impact on the sales of these blenders. What worked for Blendtec was that they did not hesitate in showing off the quirky side of their CEO. Sometimes adding a fun element to your social media campaigns without compromising on professionalism is all that is needed to make your business get noticed in the online world. Bledtec's idea was a simple one executed with very little investment and was successful because it was genuine and original.
Pink Cake Box (PCB)
Pink Cake Box is a bakery based in New Jersey run by Jesse and Anne Heap. Anne Heap is also the pastry chef and cake designer. They have had a very elaborate social media strategy ever since the company was founded in 2005 and make use of many different platforms. Pink Cake Box's website and social media efforts resulted in the company being featured in mainstream media like CNN, People, Modern Bride, etc. They post photos of their custom cakes on Flickr and videos on their YouTube channel. Flickr played a key role in getting PCB featured on CNN and it has also helped PCB in connecting with other bloggers. The Twitter handle of Pink Cake Box has 14997 followers and their Facebook page has 62784 fans.
To build and maintain their website, Pink Cake Box took the help of open source platform WordPress. They were able to create a content management system that makes it easier for non-technical employees also to contribute. Pink Cake Box was quick to realize the importance of a blog in driving engagement that would set them apart from their competitors. They use their blog to promote their cakes, offer discounts, run contests and post photos and videos to share their cake artwork. Through their blog they connect with customers and build brand awareness. The blog has also been able to attract many hobbyists resulting in increased search engine visibility. The WordPress platform also helped them boost their Search Engine Optimization (SEO) capabilities. PCB, as a small business, has been very successful with social media marketing and SEO.
HubSpot
HubSpot is a software startup founded in 2006 that has 2,99,714 followers on Twitter, 5,23,129 likes on Facebook page and 3,685 members on LinkedIn group. They also make interesting videos and post them on their YouTube channel. The company's blog posts have appeared on Digg, Reddit and StumbleUpon boosting the number of blog subscribers and making their social media efforts a success.
In the end..

As can be seen from the many examples above, social media can be a big boon for small businesses trying to establish themselves. Social media builds brand loyalty with customers and gives more visibility to your business. All it requires is some time commitment and a consistent effort.